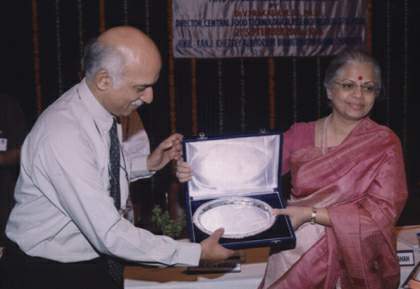 Dr. V.Prakash, Director, CFTRI is receiving the award from Prof. Rupa Shah, Vice Chancellor of SNDT Women's University, Mumbai
CFTRI Alumni Association Congratulates Dr. V Prakash Chief Patron of the Association on being conferred The 12th Professor PK Devi Memorial Oration citation and award for this year at Mumbai on 21st September, 2003 in a function organized by Bharatiya Vidhya Bhavan and Swami Prakashanand Aurvedic Research Centre, Mumbai. During the occasion, Dr. Prakash delivered a lecture on the "Journey of Nutrition through Food - the road to wellbeing".
CFTRI Alumni Association welcomes New M. Sc. Food Tech. Batch
A function was arranged to welcome the new M.Sc. Food Tech. students 2003-2005 batch at CFTRI on September 23, 2003. It was a well-attended function. Dr. V. Prakash, Director, CFTRI and Chief Patron of CFTRI Alumni Association, welcomed the new batch and briefed them about the activities of Alumni Association. He also introduced the Executive Committee Members to the new comers. Click here to see some of the photographs taken during the occasion.