PROF. CHANG VISITS CFTRI

The second and fourth semester examinations of M.Sc. (Food Technology, 1999-2001 and 2000-2002 batch respectively) were held in July 2001.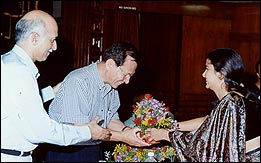 Prof. K.S. Chang being felicitated by Ms. Ritu Taneja while
Dr. Prakash looks on.
One of the Alumni of CFTRI Alumni Association (1970-72 batch), Prof.K.S.Chang, Professor of Food Engineering, Department of Food Science & Technology, College of Agriculture Chungnam National University 220, Gung - Dong, Yuseng - GU, Taejon, 305 - 764, Korea, visited CFTRI in the first week of July-2001. He also delivered a lecture to present M.Sc. (Food Technology) students on the topic "FUNDAMENTALS AND APPLICATIONS OF SUPERCRITICAL FLUID EXTRACTION" on 5th July 2001.